ENGINEERED TO SERVE THE WORLD OF TOMORROW
Multi-B Sdn Bhd manufactures Translite low voltage power distribution system, designed for high rise buildings such as Condominiums, Institutions of Higher Learning, Commercial and Office Complexes, Hotels, Hospitals, Airport Terminals, Military Installations and other High Security Facilities.
Translite MF Busduct system comprises a compatible line of feeder and plug-in busducts and accessories. Translite MF Busduct is available in standard 3-meter length with ratings of 600 Amp to 6000 Amp. It comes with aluminium, or copper conductors.
Design:
Safety Is The Key
In any mission critical environment, safety is the key between success and failure. Any breakdown of infrastructure facility, such as electrical power distribution, could result in system malfunctions, financial losses or even endanger human lives. It is therefore crucial that the right type of power distribution system be installed to meet the exact and high standards of the industry.
Safety is the hallmark of Translite MF Busduct. It is therefore not surprising that our busducts are still operating in many installations after nearly two decades.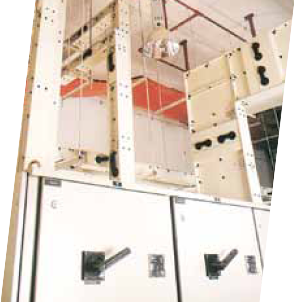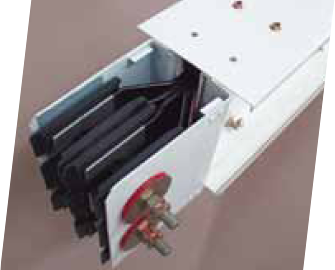 Busduct Housing:
Mechanical Strength
Translite MF busducts are built to last. The compact, fully enclosed sandwich-type busduct housing is made from electro galvanized or galvanized steel sheet to provide mechanical strength and protection for the load carrying conductors, plus efficient heat dissipation.
The scratch-proof epoxy finish exterior not only prevents rusting, it can also withstand rough handling during on-site assembly as well as enduring the tough rigors of life-time operation.
Jointing:
Easy To Install
The busduct conductors are joined by slighting the two duct sections together. The Translite unique jointing system provides a simple and effective way to join the busducts. The pre-measured stoppers allow the overlapping duct joiners to be correctly joined together with minimum effort. No cumbersome joint blocks or specialized installers are required.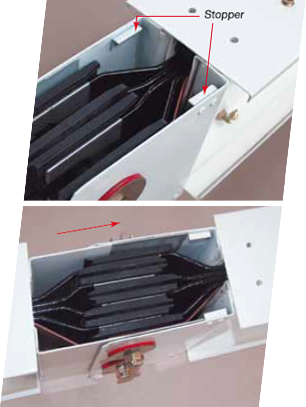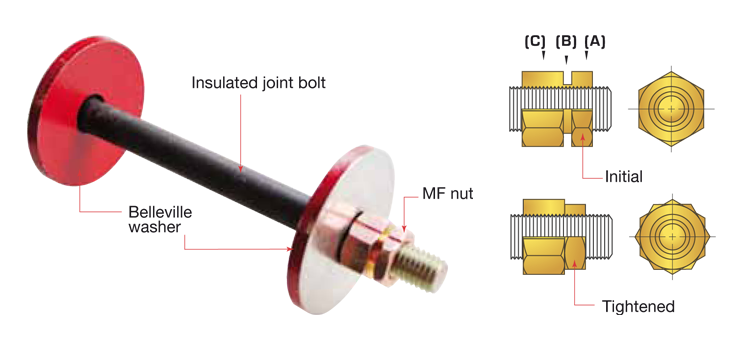 MF NUT:
MAINTENANCE FREE
The busduct sections are joined and secured with insulated high-tension bolts and maintenance-free (MF) nuts with Belleville washers. The cup-shaped washers provide an even clamping force on the joint surface. Fast and accurate torque is achieved through a double headed MF nut. When the specified torque is achieved, the neck 'B' of the MF nut will shear off allowing the outer nut to act as a lock (See diagram).
INSULATION:
FAIL-SAFE OPERATION
Safety is at the heart of Translite MF Busduct design. The copper or aluminium conductor is insulated with 4 layers of 125-micron polyester film that can withstand temperature rise of 155°C (Class F). The overlapping films also act as an airtight seal to guard against dust and moisture infiltrations.
CONDUCTOR:
SUPERIOR CONDUCTIVITY
The copper conductor is of 99.98% purity. The busbar joint ends are flashed with a specially formulated alloy solution. Our surface treatment will not peel or blister, thus eliminating potential fire hazard. The process also allows the bus bars to bond into a seamless length when tightened.
RESEARCH & DEVELOPMENT:
QUEST FOR EXCELLENCE
R&D plays an important role in our quest for excellence. With the latest computer technology our team of highly trained personnel strive to improve and upgrade our products and designs.
In addition to providing training to our workforce. New technology and material are constantly introduced to keep us ahead of the competitions.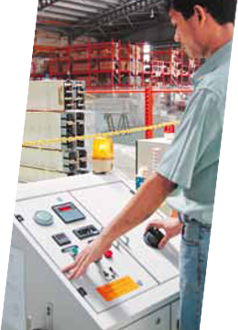 CUSTOMER SUPPORT SERVICE:
THE TRANSLITE DIFFERENCE
At Multi-B, we do not just make busducts. Our philosophy is to supply a functioning power distribution system that meets customers' satisfaction – that is the Translite difference!
We provide:
* Inspection of installed system prior to commissioning.